Photo credit: blog.clover.com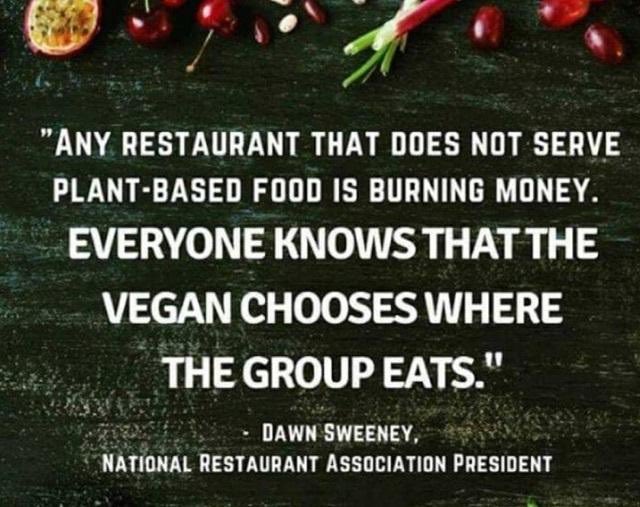 This is such a good quote.  I am uncertain as to why this never occurred to me before but it is absolutely true.  Unfortunately, I often have been the only person in the group who followed a plant-based diet (but this is changing at lightning speed).  Fortunately, I usually was the one who was able to choose the restaurant because most people can find something to eat at most restaurants.  This always makes me smile because, even though most plant-based-friendly restaurants still serve animal-based items, they should be rewarded for their efforts in supporting foods that are good for people, animals, and the planet.
Change Happens One Person At A Time!
About a year ago, a couple of friends and I would meet at least once a week to enjoy each other's company and to compare dating notes.  We would run into other friends in the community and invite them for lunch on a designated day every week.  We showed up no matter what.  We started growing slowly, one friend at a time.  We grew to the point that we had to occupy the back room of the restaurant.  It is always extremely entertaining, with friends from age 30 to 90, and laughs that make everyone else either desire to join us or to leave the room.  There was only one problem that I could determine: There were no plant-based options.  We could either have a salad (please do not insult me), or a bowl of oatmeal.  I went along with it for a while but thought that it was silly to continually go out to eat and leave hungry, in addition to the fact that salads and oatmeal were really starting to wear out their welcome where I was concerned.  The restaurant always served delicious-looking vegetables, but they were always off-limits and undesirable due to their meat flavorings.  We continually griped about the lack of options.  One day, we decided to suggest a luncheon menu that included collards, pinto beans, oven-roasted potatoes, and cornbread.  We offered cooking tips and pointed out that preparation was even easier and that we would take home the remaining portions.  That seemed doable, so the restaurant decided to try it.  It worked beautifully and the food was delicious!  I commend this little country restaurant for having an open mind and for catering to others who wish to follow healthy diets.  This menu is still only available every other week, and it's the only menu they currently offer, but most of the table orders it when it is available and I have plans to keep moving forward!
Please Do Not Offer Me A Salad!
My mother has been a very active member of her community for years and she's been on nearly every board in existence.  The main trouble she continually encounters is that, when there are dinner functions, rarely are there any significant plant-based options.  Salads are great; they are healthy but usually not fulfilling.  Every time she would suggest to the organizers that they should offer plant-based options, the organizers would invariably reply, "There's plenty for you to eat!  We have salad." This became such a frequent response that my mother created hilarious buttons to wear and to pass out to all of our friends.  These buttons read, "When I tell you that I am vegetarian, please do not offer me a salad!"
Every change may be small, but the smallest of change is still significant!
Danica De La Mora
www.DanicaDeLaMora.com